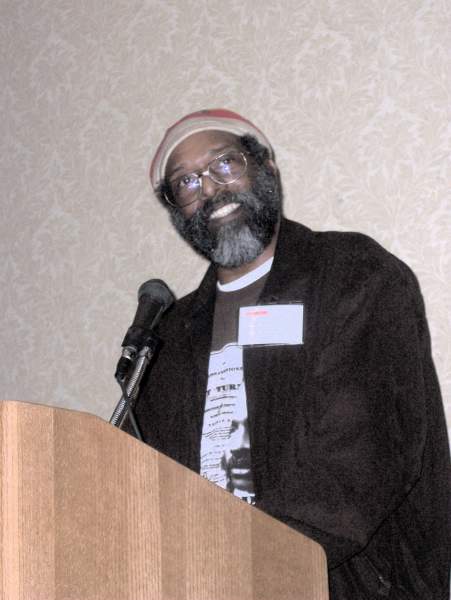 Mwatabu S. Okantah holds the BA in English and African Studies from Kent State University (1976) and the MA in Creative Writing from the City College of New York (1982). Currently, he is an Assistant Professor and Poet in Residence in the Department of Pan-African Studies at Kent State University. He also serves as Director of the Center of Pan-African Culture and the PAS Study Abroad in Ghana Program. He has taught at Union College, The Livingston College of Rutgers University, Cleveland State University and Lakeland Community College.
Okantah is the author of Afreeka Brass (1983), Collage(1984), Legacy: for Martin & Malcolm (1987), Cheikh Anta Diop: Poem for the Living—published as a limited trilingual edition in English, French and Wolof (1997) and Reconnecting Memories: Dreams No Longer Deferred (2004). Work has been anthologized in The Poet's Bookshelf: Contemporary Poets On Books That Shaped Their Art, Vol. 2 (2007), Gwendolyn Brooks and Working Writers (2007), Beyond the Frontier: African-American Poetry for the 21st Century (2002), Journey to TimBookTu (2001), The Second Set, Vol. 2 (1996) and Soul Looks Back In Wonder (1994). His latest work, Muntu Kuntu Energy: New and Selected Poetry, was released by Chatter House Press in 2013.
As a performer, Mr. Okantah has worked in a variety of musical situations, including time as Griot for the Iroko African Drum & Dance Society and in an ongoing collaboration with the Cavani String Quartet. He is the leader of Muntu Kuntu Energy aka Baba Okantah and MKE. A spoken word and original music CD, Guerrilla Dread: Griot Stylee, is scheduled for release in 2014.
Baba Okantah lives in Akron, Ohio with his wife and children.